Anti Aging Wrinkle Creams
We often, if not always, associate beauty with the appearance of skin. Subsequently, skincare is one of the largest consumer-based industries in the world. From acne products to spray tans, our society is always looking for ways to improve the appearance of our skin.
That said, it's no surprise that wrinkle cream products are extremely popular with a large percentage of the population as well. Combining the effects of moisturizers with active medicinal ingredients, most wrinkle creams promise to have your skin looking rejuvenated and younger again in no time.
Over-the-Counter Magic
If you're in need of a major face lift and don't want to waste the time finding, scheduling, and waiting for a dermatology appointment, many over-the-counter wrinkle creams are just as effective as their prescription counterparts.
The secret behind finding the best over-the-counter wrinkle creams is pretty simple – read their ingredient labels. As you read, look for these proven anti-aging ingredients, including:
•Hydroxy acids – There are multiple types of hydroxyl acids including alpha, beta, and poly hydroxyl acids. They all basically serve as exfoliants, helping to remove upper layers of dead skin while replacing those layers with new, smooth, and healthy skin.
•Retinol – Retinol is an antioxidant that serves its purpose through the neutralization of substances called radicals. Radicals are basically unstable oxygen molecules which break down skin cells, causing unwanted wrinkles. The fewer radicals your skin possesses, the less likely wrinkles will develop.
•Tea Extracts – Most teas, especially green teas, contain high levels of antioxidants that can help in the rejuvenation process of skin.
•Coenzyme Q10 – This ingredient has been proven to increase the production of energy in skin cells – leading to the reduction of wrinkles and sun damage.
•Copper Peptides – These peptides are used in most wrinkle cream products because of their ability to promote "wound healing" and the production of collagen and antioxidants.
•Kinetin Extract – This plant extract helps your skin to retain more moisture and increases the rate of collagen production, two processes that can lead to less wrinkles and healthier looking sin.
Those wrinkle cream products that include most of the ingredients listed above should be considered effective options. On the other hand, stay away from those options that omit many of these aforementioned ingredients.
To drive home this point, here are the words of a wrinkle cream guru who says, "What goes into the product will easily tell you how well a product works and whether it is the product for you."
Our Top Recommendation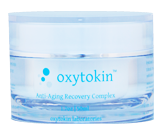 If you need a good starting point and reference in terms of your wrinkle cream search, we recommend taking a look at a product called Oxytokin. Oxytokin has garnered the top ranking in many wrinkle cream reviews due to its bevy of benefits.
Here is a quick list of benefits that Oxytokin provides its users (according to the official website), including:
•Its ability to stimulate the creation of new skin cells
•Its ability to remove wrinkles and and age spots
•Its ability to hydrate the skin
•Its ability to improve the elasticity of the skin
•Its ability to deflect and hinder environmental pathogens that may cause damage to the skin
On top of its proven effectiveness, you can also purchase a bottle of Oxytokin for just $39.95 online. Any purchase of this anti-aging wrinkle cream also includes a 100% money-back guarantee.
For more information on other leading wrinkle creams, you can find advice from experts and consumers alike at www.consumerpricewatch.org.